03/06/2008
Further Proof: It is all about cats
It is often said that the Internet is all about cats. One reason why the classic LOLCats - Icanhascheezburger struck such a chord.
Blog headlines site alltop has a category for Cute that is mostly blogs about animals, often cats, sometimes puppies, being, well, overwhelmingly, distressingly cute. Gems like stuffonmycat.com.
But my mom sent over some YouTube videos today that just sum it all up for me. Please enjoy Simon's Cat by director Simon Tofield.
Let Me In!
Cat Man Do
Tags: Simon Tofield, Simon's Cat, cats
Posted @ 1:03PM in Humour | Comments (2)
12/04/2007
Internet pets on strike in support of the WGA
So I am in the middle of writing a fairly serious post about customer service, and then I found this video by the writers of the Colbert Report on YouTube.
Enjoy.
Tags: WGA, writers strike, Colbert Report, pets, cats, dogs
Posted @ 10:12AM in Humour, Media, Politics/Policy | Comments (0)
07/05/2007
Birthday Reading List
So is it Monday or Thursday?
Doesn't matter to me because today is my birthday and I am pretty much goofing off, playing with puppies and clearing out my feed reader of all that good stuff I "saved for later."
Enjoy!
Marianne Richmond in The Blogstorm: If you sell your soul, how much should you get for it? has some terrific insights on blogger relations.
The Common Craft Show, fast becoming a favorite for its simple explanations of complex Web 2.0 topics, explains social networking.
In the category of not to be believed, AdRants tells us of a client demanding that its agency AE ask permission to take a vacation...
Speaking of passive-aggressive, if you haven't checked out passive-aggressive notes.com, do it today for a real gem.
And have a terrific weekend!
Tags: blogger relations, social networking
Posted @ 12:07PM in Advertising, Blogger relations, Humour, Social networks | Comments (2) | TrackBack (0)
06/29/2007
Understatement of the year?
So I got this email today:
Understatement of the year or what?
Have a great weekend!
Tags: iPhone
Posted @ 11:06AM in Humour | Comments (0) | TrackBack (0)
06/11/2007
More amusements
Tips of the hat to Elisa Camahort and Karen Rani for pointing out passiveaggressivenotes.com
And to my friend Sydney for forwarding the link to Women in Art.
Posted @ 2:06PM in Art, Humour | Comments (0) | TrackBack (0)
06/10/2007
Sunday Funnies: All about email
Tip of the hat to Sandy for this one. All it is missing is hot stock tips and deceased Nigerians.
Posted @ 6:06PM in Humour | Comments (0) | TrackBack (0)
05/16/2007
Are we sure it isn't all about cats?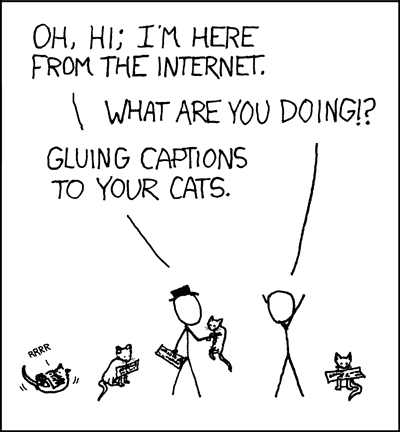 Cartoon by Randall Munroe, xkcd
Posted @ 10:05AM in Humour | Comments (0) | TrackBack (0)
04/28/2007
Yes, it is all about CATS
At New Comm Forum in March, one of the points on keynoter David Weinberger's slides was that the Internet was not all about Cats.
Well, maybe. But it does seem like there are an awful lot of cats online. Some recent data points:
In case you can't quite tell, the animal emerging from the pet door is one of our scottie puppies.
So take a break from twitting and go build your own clever cat image. And, don't worry, if you don't have a cat of your own, there are plenty of images to choose from :-)
Because yes, it is all about cats.
Tags: cats, dogs, scottie, scottish terrier
Posted @ 4:04PM in Douglas/Dogs, Humour | Comments (1) | TrackBack (1)
04/05/2007
Rabbit redux
I know I posted this last year, but hey, it is still funny :-)
Have a great weekend, enjoy the (hopefully) Spring weather and if you are celebrating Easter or Passover, enjoy the time with friends and family.
Posted @ 3:04PM in Humour | Comments (2) | TrackBack (0)
12/19/2006
A little holiday cheer
A little viral cheer from OfficeMax (first seen on Whedonesque)
And don't forget to track Santa on Norad
Tags: viral marketing, christmas
Posted @ 8:12AM in Holiday, Humour | Comments (0) | TrackBack (0)